2019 RISD Graphic Design MFA Show
Client: Self-authored Group Show
Collaborators:
Amy Auman
,
Chistopher Cote
,
Joel Kern
,
Eury Kim
,
Jieun Kim
,
Elaine Lopez
,
Robert McConnell
,
Mohammed Nassem
,
Annaka Olsen
,
Goeun Park
,
Marcus Peabody
,
Angela Torchio
,
Wei-Hao Wang
,
June Yoon
, and
Nathan Young
Status: Completed
Year: 2019
Tags: Environmental, Media, Platform
This cumulative thesis exhibition projects the diversity of our backgrounds and engages media in different modes of circulation, with a varying range of intention, purpose, scale, and audience while placing significant emphasis on our sef-puplished thesis book. The enviornment acted as a respite among the convention center chaos to take a seat and enjoy a closer look at our texts.
"All design is essentially an act of circulation, a cyclical practice of knowledge distribution — we read, experience, and interpret. Circulation determines the way an idea is shared, how a message goes out into the world, and how others receive, respond to, and interact with it. Information is transferred from the public, to the designer, and back to the public."
http://mfa2019.risd.gd/
2018 RISD Graphic Design Triennial

Client: Rhode Island School of Design
Collaborators: Annaka Olsen, Olivia De Salve Villedieu, Marcus Peabody, Tiger Dinsun, June Yoon, Cem Eskinazi Nathan Young, Robert McConnell & Elena Foraker, Bobby Joe Smith III, Stephanie Wintaro, Jason Yau, Chris Cote, Marcus Peabody, Angela Torchio, Elaine Lopez
Status: Completed
Year: 2018
Tags: Environmental, Identity, Media


The 2018 RISD Graphic Design Triennial depicts a collective community, addressing the new technologies and events that influenced it over the past three years. This exhibition investigates the past to see the future through this localized inspection of our own environment, so we can examine the role of the academic institution in the field of graphic design.
October 4th - October 15th 2018
Woods Gerry Gallery, Providence, R.I.
View more at
http://risdgdtriennial2018.risd.gd/
A|E Side Table

Client: Self-authored
Collaborators:
Status: Completed
Year: 2018
Tags: Environmental, Platform






AMONG: A series of Enactments

Client: Self-authored
Collaborators: JKDS
Status: Completed
Year: 2019
Tags: Environmental, Media, Platform
AMONG captures the practice of a constructionist designer, one who oscillates between the characteristics of typography, multi-materiality, and spatiality yet does not attach solely to the physical or digital. The fundamental principles of this practice include open platforms that foster generative collaboration through modular systems. AMONG straddles the borders of graphic design, environmental design and social sculpture. At its core, this practice encourages new ways of connecting communities.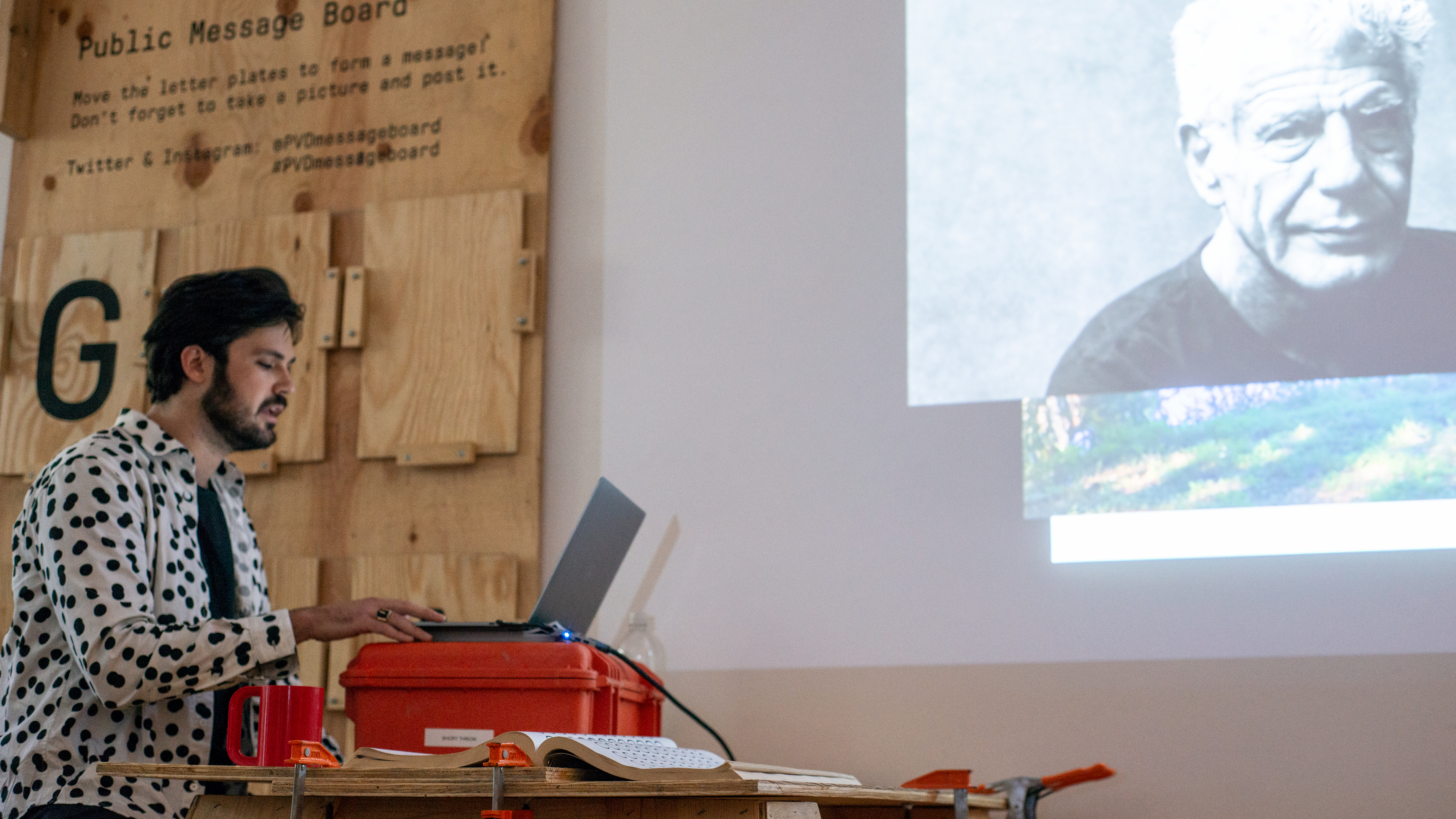 Arrangements in Color + Braille
Experiemental Design Research

Client: Self-Authored
Collaborators: JKDS
Status: Ongoing
Year: 2016
Tags: Media, Platform

This book acts as documentation of the four experiments conducted to find the best way to connect braille, a tactile language, to a specific visual presentation. I chose to use specific primary colors and strategic tile placements to emulate the tactile characteristics of braille. These experiments explored both the additive (light) and subtractive (pigment) color theories, braille, and human interaction to provide awareness for the sighted community of the beauties of braille while simultaneously including color to help achieve its understanding.